Zero2Go: Wide Input Range Power Ssupply für Raspberry Pi
Zero2Go: Wide Input Range Power Ssupply für Raspberry Pi
Delivery Time: ab Lager
Verfügbarkeit: Zur Zeit nicht an Lager
Downloads & Links
Handbücher
Artikelbeschrieb
Details
Zero2Go is a small and smart power supply add-on for Raspberry Pi. When using the pogo pin connector (included in package), it can connect to Raspberry Pi Zero without soldering. It also supports other Raspberry Pi models who have 40-pin header.
Main features include:
Same board size with Raspberry Pi Zero
No soldering required when mounting on Raspberry Pi Zero
Wide range input voltage (5~26V)
Reversed polarity protection
Connect power source via micro-USB, DC power plug or electric wires
Support "pass-through" and "step-down" modes (auto switching)
Single tap to startup/shutdown Raspberry Pi
Zero2Go has quite wide input range (5V~26V), so it is will be convenient to power your Raspberry Pi with power bank, Li-Po battery pack, solar panel, car battery or different kinds of power adapters etc.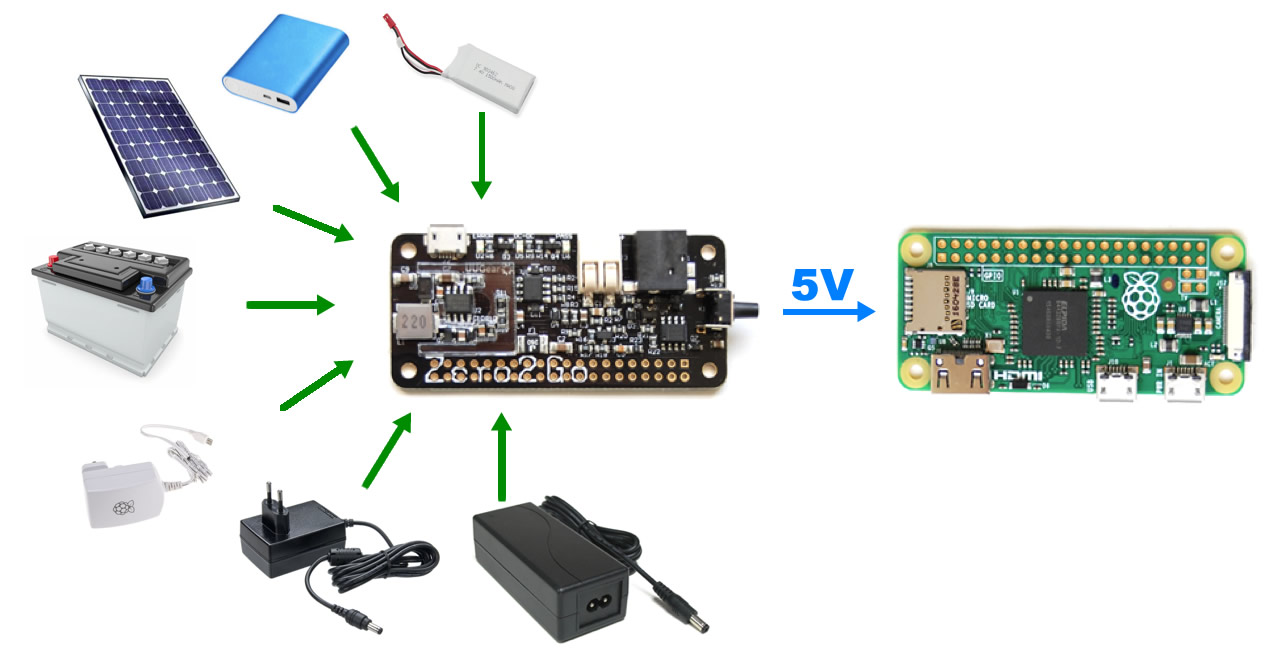 Zero2Go work in pass through when input voltage is less than 5.5V, and in step-down mode when input voltage is higher than 5.5V. Zero2Go can switch between these two modes automatically.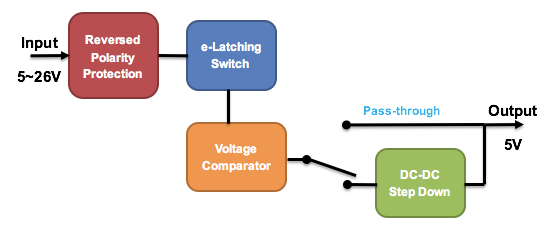 SOFTWARE INSTALLATION
To install Zero2Go's software, please run this command in your home directory:
pi@raspberrypi ~ $ wget http://www.uugear.com/repo/Zero2Go/installZero2Go.sh
If your Raspberry Pi has internet connection, it will immediately download the script from our website, and you will then see the "installZero2Go.sh" script in your home directory. Then you just need to this script with with sudo:
pi@raspberrypi ~ $ sudo sh installZero2Go.sh
You will need to use sudo to run this script. This script will copy a file to "/etc/init.d/zero2go", and register it to run after boot.
PACKAGE CONTENT
Each package of Zero2Go contains:
Zero2Go board x 1
Plastic male-female standoff x 4
5 x 4 mm screws x 4
5 nuts x 4
Dual-head Pogo pin connector (5-pin set)
Remarks: Raspberry Pi and 40-pin header are not included in the package.
SPECIFICATIONS
Dimension:
65mm x 30mm x 9mm
Weight
10g (net weight without any accessory)
Input Voltage (Vin)
5~26V [1]
Output Voltage (Vout)
5V (±5% tolerance)
Max Output Current
2.6A [2]
DC-DC Efficiency
88% max
LED Indicators
Red: lights up when input polarity is reversed
Green: lights up when DC-DC converter is working
Blue: lights up when input pass through to output
Static Current
~0.5mA when Vin=5V
~4mA when Vin=26V [3]
[1] Input 5.5~7.0V is not recommended as the DC-DC converter needs more dropout to work well.
[2] Without adding heat sink to DC-DC chip and the inductor (U2 and L1), we suggest to keep the current below 1.5A for long term usage. If you are using the Pogo pin connector to output all current to Raspberry Pi Zero and peripherals, the current should be 1A or lower.
[3] It is the current drawn from the power source, when Raspberry Pi doesn't get powered.